A unique, creative venue for
weddings and social occasions

 in Las Vegas
Celebrate your special day in memorable spaces just as unique as you. From small ceremonies to large receptions, parties to performances, and birthdays to anniversaries, we can host, plan, design, cater, and more. Your imagination has space to run wild.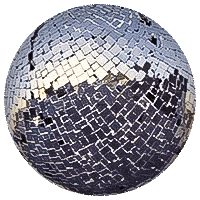 Let's connect & create memories.
Whether you're an expert or a novice, our team provides start-to-finish consultation for:
Anniversaries
Balls & Banquets
Birthdays
Cocktail Parties
Engagement
Family Reunion
Fundraisers
Holiday Parties
Mixers & Happy Hours
Networking
Performances
School Events & Reunions
Seasonal Events
Theme & Tribute Parties
Wedding Ceremony
Wedding Reception
Recommended social spaces
Choose between a variety of collaborative spaces custom-tailored to your unique needs, surrounded by one-of-a-kind art, unique activations, innovative design, and groundbreaking technology, all within a 300,000 square foot entertainment complex minutes from the Strip.
Set your conference, party, or performance in a down-the-rabbit-hole wonderland, an opulent palace, or a jungle of mythical beings. Outfitted with 360-degree projection-mapped walls, the Portal is a blank canvas for lush interactive environments that defy the limits of the imagination. If you can dream it, our team of video artists can bring it to life.
600 / 300
Reception / Banquet
Oddwood is a striking setting for any event where a twinkling tree takes center stage. Whether you say your wedding vows beneath the glowing tree canopy or use it as a headline-grabbing backdrop for your conference or lecture series, this is the perfect event space to make magical memories.
Step inside a bamboo volcano sourced from the mountains and valleys of Java and Bali. The airy, organic shape and lush, live greenery will transport you and your guests to a place of peace. Ideal for intimate events – ceremonies, workshops, soirees… or close encounters of any kind.
Throw a festival. Throw a concert. A convention. A rave. A-Lot is a lot of customizable outdoor space, so you can host your ultimate event under the Vegas skyline.
2,500+ / 1,250
Reception / Banquet
Step into a space inspired by aeronauts of the past. Perfect for intimate events, cocktail hours, team building, or anything you can imagine. Enjoy a lounge, full bar, and catered options complete with customizable lights and sound. Treat your guests to a panoramic skyline experience of Las Vegas as an added bonus.
The Wall is perfect for corporate gatherings, special occasions, intimate weddings, birthday parties, and other small events. The understated industrial-inspired space is illuminated by a large LED screen that can become the focal point of your event or create any environment or vibe. The Wall is the perfect canvas for creating an unforgettable event experience.
150 / 80
Reception / Banquet
Lose yourself in an atmosphere that fuses vintage arcade nostalgia with a contemporary twist as you indulge in craft cocktails and unique beers on draft.
Asylum offers a diverse range of gaming options that cater to every taste and skill level. Lose yourself in the electrifying energy of our vibrant space in perfect harmony.
Move over, bowling. Meet your new favorite bar sport that lets you satisfy your primal desires: axe throwing." to "Get your group into the competitive spirit and throw an event inside the rustic yet refined Dueling Axes. Axe throwing offers a unique blend of excitement, social camaraderie and provides an exhilarating atmosphere to unleash your inner lumberjack and forge unforgettable memories.
Take your shot at a new way to play and party. From casual get-togethers to corporate team building, this unique event space will be on par for your next gathering.
Surround your guests in sight and sound on an epic scale. The customizable event spaces can transport guests to a Japanese night market, a Parisian flower garden, into outer space, or on a reef deep below the ocean's surface.
Get lost in a world of artistry and wonder as you and your guests are transported into the "Willy Wonka of Booze." The immersive distillery with a modern cirque show offers flexible event spaces to accommodate intimate gatherings and larger soirées. Transform any occasion into an unforgettable journey through time and taste.
Step into a (virtual) world of limitless possibilities where reality meets the extraordinary.
Whether you're planning a corporate gathering, a birthday celebration, or a unique social gathering, Virtualis VR offers an unparalleled experience that will leave your guests in awe.
Enhancements meet creativity + immersion




Connect with an AREA15 Professional Planner.
Review a full printable presentation.
Explore our event spaces before your site visit.