An Event Venue Reimagined
When you host an event at AREA15, the only limit is your imagination—and if your imagination is limited, you can count on us to help push it further. Featuring 40,000 square feet of indoor and outdoor space, including combinable options ranging from the intimate to the expansive, it's a platform like no other!
We have the ability to host any type of event, no matter the shape or size. Just tell us what you're looking for and we'll create an unimaginable experience for your guests.
The perfect experience for your group to celebrate any special occasion.
For groups up to 18 people.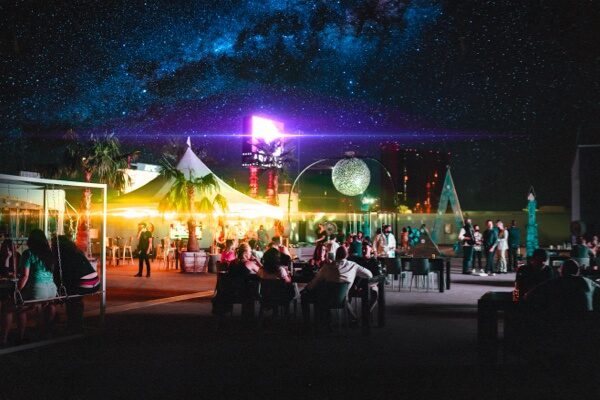 Extraordinary event spaces for any type of large group.
From 19 people – up to 4,000.
Fully customizable, multi-use space suitable for festivals, carnivals, conventions, concerts and other large-scale events.

20,000
Square Feet

15,000
Capacity
Throw a festival. Throw a concert. A convention. A rave. A-Lot is a lot of customizable outdoor space, so you can host your ultimate event under the Vegas skyline.

32,000
Square Feet

3,500
Capacity

1,600
Banquet Capacity
Set your conference, party, or performance in a down-the-rabbit-hole wonderland, an opulent palace, or a jungle of mythical beings. Outfitted with 360-degree projection-mapped walls, the Portal is a blank canvas for lush interactive environments that defy the limits of the imagination. If you can dream it, our team of video artists can bring it to life.

7,500
Square Feet

900
Capacity

1,600
Banquet Capacity
Step inside a bamboo volcano sourced from the mountains and valleys of Java and Bali. The airy, organic shape and lush, live greenery will transport you and your guests to a place of peace. Ideal for intimate events – ceremonies, workshops, soirees… or close encounters of any kind.

2,000
Square Feet

300
Capacity

150
Banquet Capacity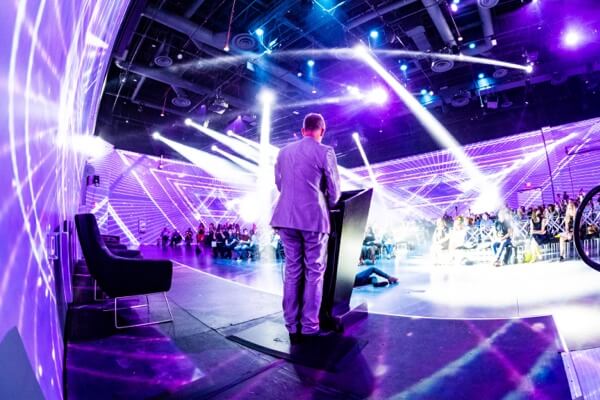 Any type of event will be enhanced with groundbreaking tech and AV capabilities. State-of-the-art light and sound technology, including 4K projection mapping, is sure to bring your event to the next level.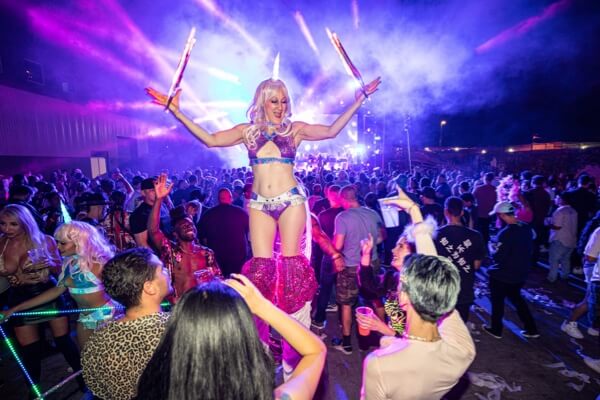 Creative + Experiential Enhancements
Tap into our troupe of performers to enhance your event. From DJ's to stilt walkers, we have handpicked the best professional entertainers and artists to cater to your special event.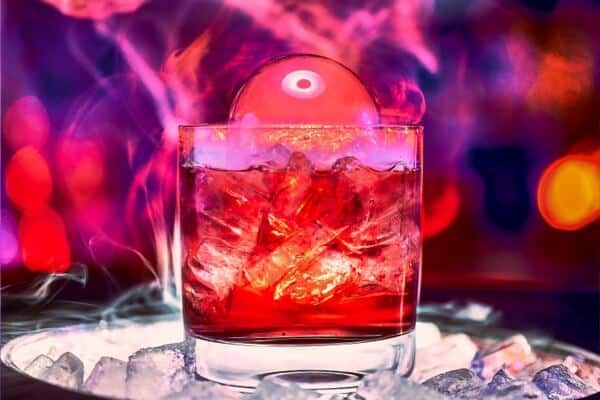 Innovative Food & Beverage
Whether you choose to use one of our preferred caterers or want to bring you own food in for your guests, we have a wide array of vendors to choose from for custom cakes, unique cocktail designs, immersive dining experiences and more.
Looking for Something Bigger?
Your event can take over all of AREA15. Throw an ax, ride a zip line, explore immersive exhibitions, experience world-class VR, play arcade games, eat, drink and more. Any corporate or private event can be transformed into an unforgettable experience that your guests will be talking about for years.
Trust us – your guests will never look at a company part the same way again.
Contact Us About Your Event