Action-Packed Bundle in Fantastic and Virtual Worlds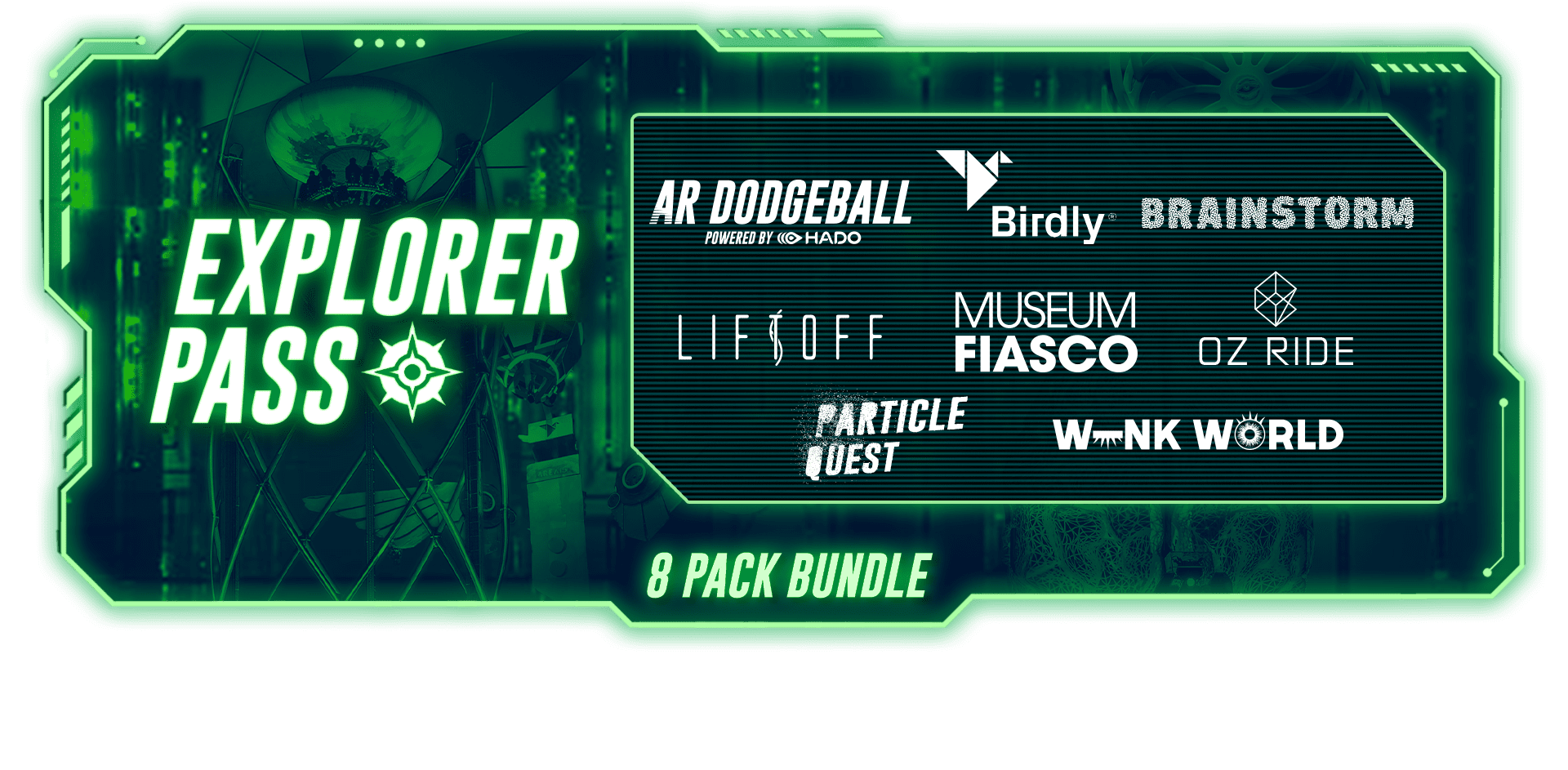 Looking to explore other dimensions, touching the sky, flying like a bird, discovering alternate realities, and transporting into portals beyond your imagination? Now you can!
Become an Explorer and enjoy access to discover, ride, explore, and immerse yourself in otherwordly adventures with the AREA15 Explorer Pass.
Explorer Pass (8 Pack Bundle) – $89
Access To:
AR Dodgeball, powered by HADO
Duration: approximately 2 hours
Waived Entry Fee on Friday/Saturday Nights*
Choose the 7pm, 21+ Time Slot for a Free Drink
Explorations got you thirst? Enjoy a free drink at THE BEAST by Todd English with the purchase of an Entree and proof of your Experience Pass.
* Offer valid for one drink per visitor with proof of same-day, 7 PM, 21+ Experience Pass. Must be 21 years or older to consume alcohol. Valid ID required. Restrictions may apply.
Availability & Age Restrictions
Passes are available while supplies last. Blackout dates may apply.
Must be 21+ to purchase passes for the 7 PM – Close time slot.
At 10 PM daily, AREA15 becomes a nightlife venue. Visitors must be 21+ to enter and remain in the venue.
Pass Details & Restrictions
Experiences included in the ticket packages are listed above and on confirmation ticket. No substitutions. Additional experiences can be purchased separately online or in venue.
Passes are valid for the day of redemption. Experiences must be completed same-day. Unused experiences are non-refundable and will be ​forfeited.
Experiences are subject to time of closure and ride operations.
If Experiences are non-operable due to weather, maintenance, private events, etc., visitors will be notified and offered alternative options prior to redemption.
Passes for the 7 PM – Close time slot receives ONE free drink at The Beast with the purchase of Entrée​ per passholder.
* Visitors must be 21 years or older to enter AREA15 after 10 PM daily.
Attraction Info & Requirements
Certain experiences have safety guidelines with height and weight restrictions. Attraction agents and management reserve all rights.
BIRDLY | Visitors must be 48″ tall. Ride has maximum weight limit of 395 lbs.
LIFTOFF | Visitors must be 42″ tall to ride LIFTOFF with an adult ages 18+. Must be 48″ tall to ride alone. Riders may not wear sandals or slip-on shoes on the ride. Lockers available. LIFTOFF may cease operation without notice due to weather. Passholders unable to ride due to weather will be accommodated accordingly.
OZ RIDE | Visitors must be 48″ tall to ride OZ Ride by Backlight. 
MUSEUM FIASCO & WINK WORLD | Visitors with sensitivities to loud noises, strobing lights, and/or fog effects are advised not to enter these experiences.
All experiences are ADA accessible. Visitors must transfer from wheelchair for Birdly, OZ Ride, and LIFTOFF.
Comfortable shoes are recommended. Some rides do not allow high-heels, sandals, open-toes, or slip-ons due to safety concerns.
Additional Experiences Available
Experiences included in the ticket packages are listed above and on pass confirmation ticket. No substitutions. Tickets or reservations for Dueling Axes, Five Iron, Haley's Comet, Lost Spirits Distillery, Virtualis and other experiences and which are not listed must be purchased separately.