a movement experience and global sub-culture
Ecstatic Dance is a movement experience and global sub-culture from Thailand to Los Angeles. Now, there is an Ecstatic Dance Las Vegas (EDLV) facilitated and created by Marissa Romero. EDLV is an environment for all ages, genders, and sizes to come together and DANCE IT OUT. It is a space held specifically for people to express, move, and dance freely in a safe, judge-free, substance-free zone. Ecstatic Dances can induce feelings of release, freedom, laughter, bliss, and more. It's a vibe. It's an experience. It's a community. It's Ecstatic Dance Las Vegas.
See ya'll on the dance floor!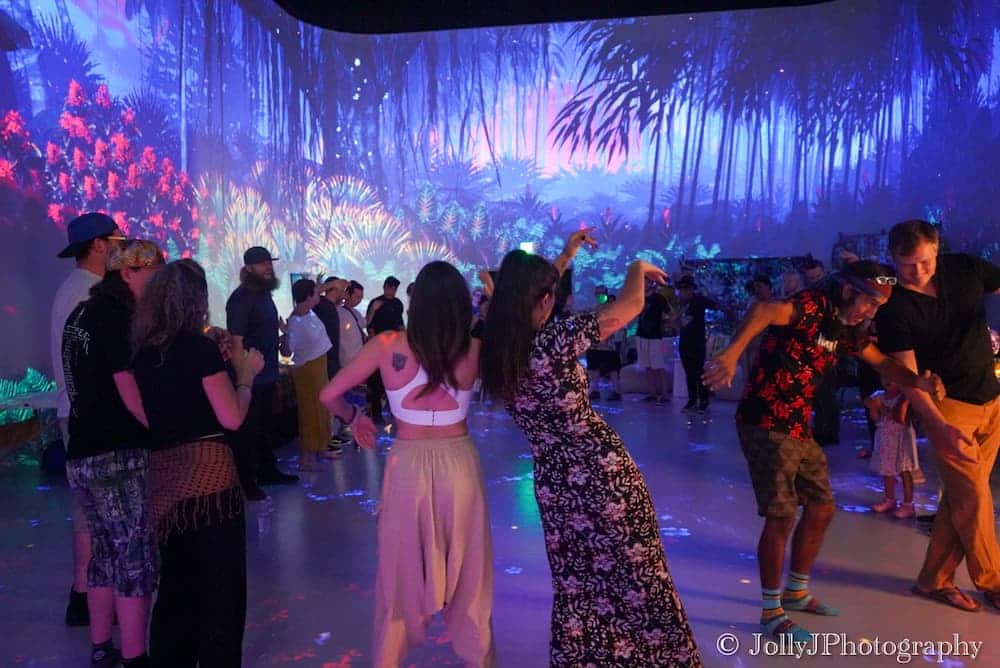 December 14, 2023
Equanimous
Equanimous is a music producer, DJ, and multi-instrumentalist. He gathers elements from the world around him to create a sound that defies genres, pushes boundaries, and can only accurately be described as a one of a kind heart-expansive experience. His music resonates with a variety of listeners and creates a joyou high vibrational atmosphere on the dance floor.
Equanimous up-levels the electronic music experience by playing live djembe / drums, keys, and beatboxing along with his tracks. He's known for his deep bass, beautiful melodies, live looping, and creative rhythmic beats that take people into a state of euphoric dancing and heart-centered bliss.
Movement Warm-up:
Contact Improvisation (CI) Led by Marissa Romero
Contact Improvisation is a form of dance that emphasizes exploration through physical contact and spontaneous movement. This form of dance encourages playfulness, curiosity, and connection between dancers, as they create shapes and movement in the moment, responding to each other's energies. It is a style that embraces presence and freedom through movement.
Experience Details & Restrictions
The dance floor is a sacred space; no phone, shoes, or talking on the dance floor.
Sober Environment
All Ages, Genders, & Sizes
Judge-free Be Free dance space.

* AREA15 is not responsible for any injury, loss or theft of property. Management reserves all rights.